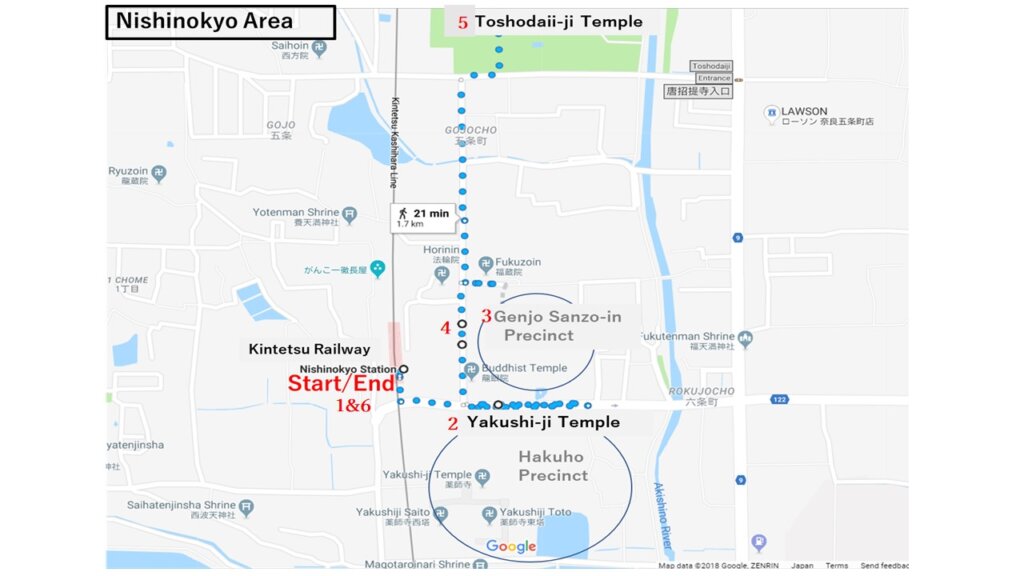 Kintetsu Railway Nishinokyo Station   Walk for about 1 minute to the east.   
Yakushi-ji Temple

  




Hakuho Precincts(main area)  Plan to stay for about 40-50 minutes




Ticket office, Main Hall(Kondo), Great Lecture Hall(Daikodo),

East Hall(Toindo), East Pagoda(Toto), West Pagoda(Saito), Jikido Hall

Genjo Sanzo-in Precincts    Plan to stay for about 15 minutes
Exit    Walk straight north to Toshodai-ji Temple for 10 minutes  
Toshodai-ji Temple

  Plan to stay for 40 minutes.  Walk back the same road for 10 minutes to N

ishinokyo Station
* Nishinokyo Station is on Kashihara Line of Kintetsu Railway. It is about 40 minutes from Osaka-Namba Station via Saidaiji Station.
Last updated: March 06, 2021
Text by: Yoko