What you must see : Beautiful vermilion-colored buildings in a quiet sacred forest. Bronze lanterns each featuring the name of a different donor.

Walk on the gravel road lined with two thousand stone lantern.
Kasuga Taisha was founded in 768 as a tutelary shrine of Heijyo-Kyo, a capital in Nara, and the Fujiwara clan, the most influential and closest family to the imperial dynasty.  The approach to the Main Sanctuary is graveled and lined with stone lanterns. At the Main Sanctuary, a thousand beautifully crafted bronze lanterns hanging round the outer eaves have been donated over the years by supplicants. 
Mikasa Mountain behind Kasuga Taisha is where Shinto deities reside and the main object for worship at this shrine. Kept as strictly primeval forest, climbing plants like wisteria are abundant.
It is recommended to go to the inner area of the Main Sanctuary where you can walk deep inside for a small fee. You can also experience a lantern festival in the little dark room. 
Lanterns are lit up twice a year for the Mantoro ("ten-thousand lanterns")festival on February 3 and during Obon, the festival of souls in mid-August, for the Chugen Mantoro festival.  The bronze lanterns and the nearly two thousand stone lanterns, which line the path leading up to the shrine, are lit at dusk. 
Another good time to visit Kasuga Taisha is early May when the dozens of varieties of wisteria are in bloom. You will also see wisteria on the hair ornaments of shrine maidens.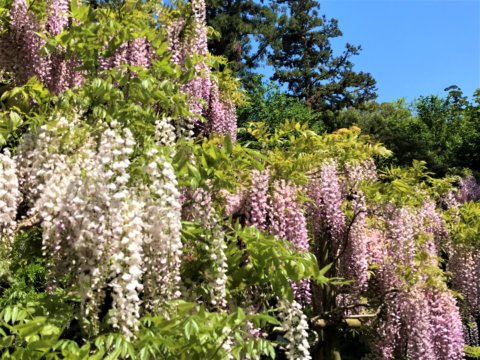 Wisteria in the botanical garden in May
At a Shinto shrine, priests perform rituals. They believe Deities reside in natural objects like mountains or stones and natural phenomena like rain or wind. Deities are invisible and send messengers like deer.  People have donated their treasures to please Kasuga Deities and therefore the highest art of each age, including crafts, samurai armor and swords, were collected at Kasuga Taisha. You can see more than 300 National Treasures at Kasuga Taisha Museum near the main complex.
You may see a wedding ceremony at the Main Sanctuary. For Japanese people, it is perfectly normal to have wedding ceremonies at a Shinto shrine and funerals at a Buddhist temple. 
Path of the Senior Priest
Information
Address
160 Kasugano-cho, Nara City, Nara, Japan
Main Sanctuary
Hours
6:00 to 18:00 (April to September) 6:30 to 17:00 (October to March)
Inner area: 8:30 to 16:00
Closed
No closing days (the inner area is occasionally closed)
Admission
Free (outer area), 500 yen (inner area)
Kasuga Taisha Museum
Hours
10:00 to 17:00 (entry until 16:30)
Closed
When exhibits are changed
Admission
500 yen 
Botanical Garden
Hours 
9:00 to 17:00 (until 16:30 from December to February); admission ends 30 minutes before closing
Closed
Mondays from December to February (or following day if Monday is a holiday)
Admission
500 yen
* Hours may be changed. You are always asked to check information on the official website before you visit.
http://www.kasugataisha.or.jp/about/basic_en.html
Access:
Route from Kintetsu Nara Station on foot
Kasuga Taisha is located east of Nara Park. It is about a 30-minute walk from Kintetsu Nara Station, or a 45-minute walk from JR Nara Station.  It can also be reached by bus from either station. Get off at the Kasuga Taisha Honden bus stop (220 yen).
Last updated : Oct 03, 2019 
text by: Yoko