Shin Yakushi-ji Temple might be less well-known among international tourists but is a must-visit temple for those who are fascinated by the beauty of Buddha statues. If you are planning to walk around the Nara Park area, we do recommend starting the day from this temple. Located to the southeast of the Park, it is a good place to start a stroll to Kasuga Grand Shrine (Kasuga Taisha) and Todai-ji Temple.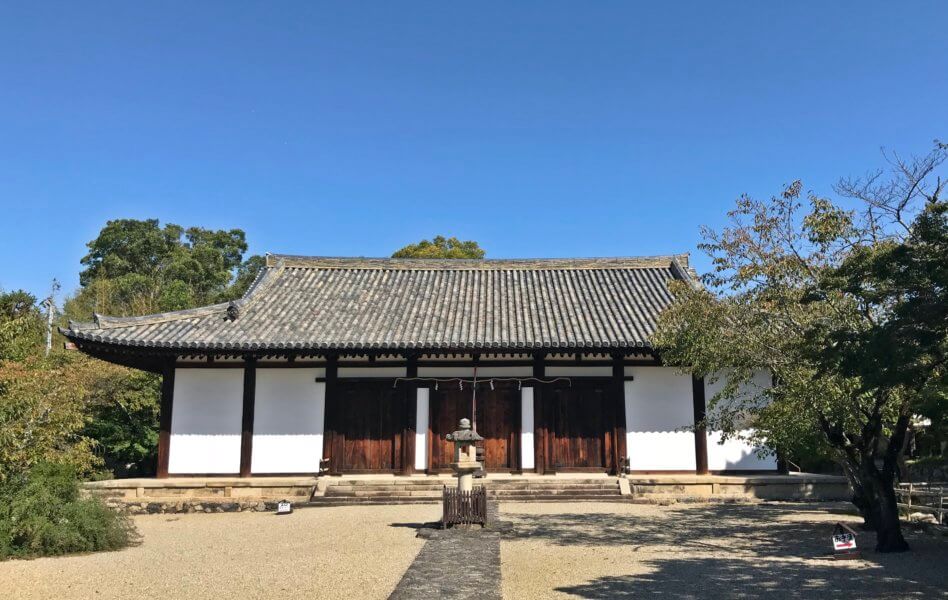 Built in 747, the Main Hall, a modest one-story building, is situated in the center of the comparatively small premises.
What makes this temple different from others is its round platform, with a diameter of nine meters, constructed in the building. It may be compared to a stage in a theater-in-the-round.
In the center of the stage is Yakushi Nyorai, meaning Medicine Buddha, holding a jar of medicine in his left hand. http://www.shinyakushiji.or.jp/yakusinyorai/
(Official Shin Yakusji-ji website)
He is surrounded by a group of guardians named the Twelve Heavenly Generals. All of them have weapons in their hands, except one (Meikira).
http://www.shinyakushiji.or.jp/junisinsho/
(Official Shin Yakusji-ji website)
All statues except one (Haira) are National Treasures. There are twelve National Treasures in this small building — it is truly exceptional!
What will attract your eyes is their postures. They do not stand still: some hold their arms high, some twist their waists as if they were dancing and some take unique threatening postures. They also have a variety of facial expressions. Each individual is different but they are harmonized as a whole. The sophisticated lighting makes the scene more dramatic.
Bazara (on the top of this page) is the most popular among Japanese people and appears in many photos and posters.
http://nara.jr-central.co.jp/campaign/adgallery/shinyakushiji/poster.html
(Official JR Central website)
Find YOUR Heavenly General
Apart from their artistic value, it's fun and will be memorable to find YOUR Heavenly General from among the twelve statues.
Have you heard about the Oriental Zodiac? It is a 12-year cycle system and it relates each year to a direction and an animal. Almost all Japanese (and people in East Asia) know which animal represents a particular year. For example, I was born in the year of cow and 2018 was the year of dog.
As each of the Twelve Heavenly Generals guards one of the twelve directions respectively, it also assumes the role of a guardian to the people who were born in the year of an animal representing the direction.
See the table below and identify your animal and General from your year of birth. You can join hands in prayer or just bow in front of your General.
It is also a good idea to buy postcards of the Twelve Heavenly Generals as souvenirs for yourself and your friends, which are available at the small souvenir shop in the same building.
Twelve Signs of the Oriental Zodiac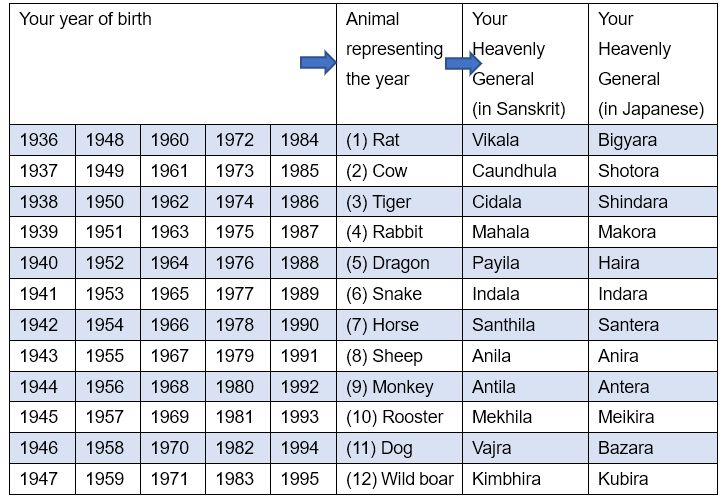 * For those who were born before 1936, please add 12 or 24 to your year of birth. For those who were born after 1995, please subtract 12 or 24 from your year of birth. Thank you!
Layout in the Hall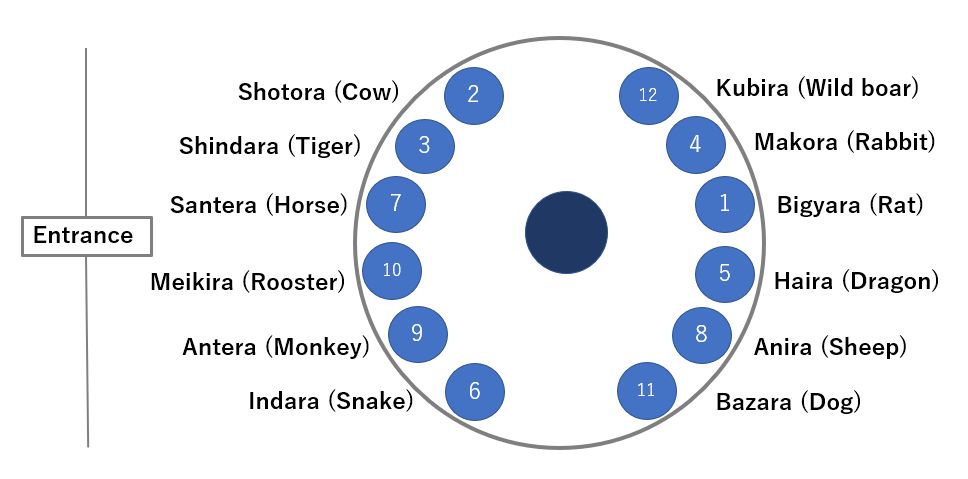 * All Heavenly Generals in the photos on this page are replicas exhibited on the 5th floor of Kintetsu Nara Station.
Information:
Hours:
9:00 to 17:00
Admission:
Adult: 600 yen
Address:
1352, Takabatake-cho, Nara City 630-8301 Japan
* You are always asked to check information on the official website before you visit.
http://www.shinyakushiji.or.jp/guide/
(No English translation available)
Access:
Detailed access information is available on the Access to Shin Yakushi-ji Temple page.
Last updated: October 28, 2019
Text by: Yumi