Horyu-ji Temple
Horyu-ji Temple is the home of Japan's Buddhism and was registered as the 1st UNESCO World Heritage Site in Japan. It was founded in 607 by Prince Shotoku who promoted Buddhism in Japan at the very early stages. Horyu-ji is one of Japan's oldest temples and contains the world's oldest surviving wooden structures.  17 Buddha statues are National Treasures, which account for 13% of all in Japan. Including all National Treasures and Important Cultural Properties including buildings, they have as many as 3,000 pieces the largest number among all the temples in Japan. Located a little farther from the center of the capital city Nara, Horyu-ji Temple was away from political disputes and still enjoys a rural and quiet atmosphere. 
Prince Shotoku
A legend and super star, during the Asuka period who established an emperor-centered nation with the help of Buddhism.
The temple has two main precincts, the Western Precinct(Saiin Garan)and the Eastern Precinct(Toin Garan)
The Western Precinct : the Central Gate (Chumon), the Main Hall (Kondo) and a five-story pagoda. These are wooden buildings built in the Asuka Period (592-710) , about 1,300 years ago, and have never suffered from destruction ever since, although they have undergone renovations multiple times over the centuries.
The Central Gate is guarded by Japan's two oldest guardian deities.  The Main Hall houses some of Japan's oldest Buddha statues surviving from the Asuka Period. They bear an ancient smile called archaic smile on their lips typical of the style of Buddha statues in Northern China in those days. 
Main Hall (Kondo)
A bronze image of Shaka Nyorai is flanked by two Bodhisattvas. This Shaka triad was made by the famous sculptor Tori, in memory of Prince Shotoku. To the east of the triad is a bronze statue of the seated figure of Yakushi Nyorai, and to the west is a bronze statue of the Amida Nyorai. Japan's oldest set of four heavenly guardians, or Shitenno ward evil away from these statues.      
Pictures of the statues enshrined in Kondo: http://www.horyuji.or.jp/en/garan/kondo/
Five-story Pagoda
The five-story pagoda is the oldest wooden building of this kind. It is surprising that this 33m high pagoda survived big earthquakes over centuries. It is more surprising that carpenters of those days had a knowledge of absorbing tremors : the central pillar only sits on a base stone and the wooden parts are mostly combined without nails. Inside, there are very expressive clay statues showing the life of Buddha.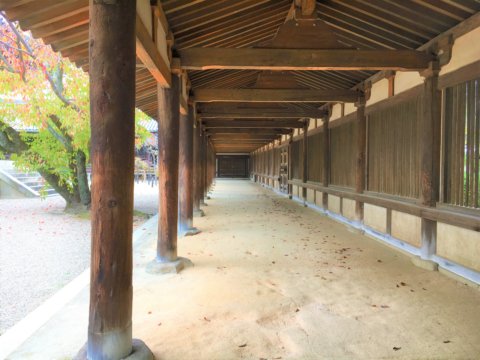 Kudara-Kannon Statue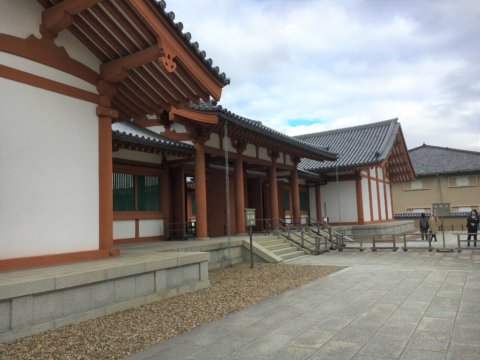 The Gallery of Temple Treasures exhibits a part of the temple's huge art collection. There are various statues of Buddha as well as Buddhist relics, artwork and paintings displayed inside. Among them, Kudara-Kannon is famous for its beautiful tall figure and is especially popular among Europeans.  
Pictures of treasures in the Gallery of Temple Treasures including Kudara-Kannon. http://www.horyuji.or.jp/en/garan/daihozoin/
Hall of Visions(Yumedono) & Kuse- Kannon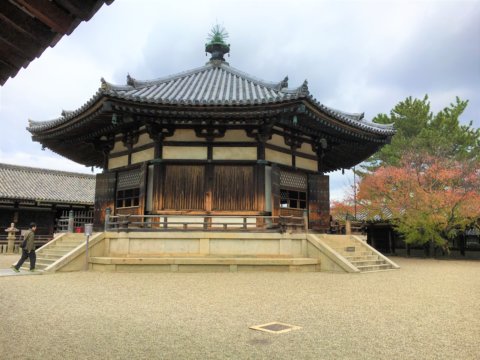 The Eastern Precinct is a five-minute walk from the Western Precinct. In its center stands the octagonally-shaped Hall of Visions (Yumedono), which is dedicated to Prince Shotoku and houses a life-sized statue of the prince, Kuse Kannon, surrounded by statues of Buddha and various monks. 
Kuse Kannon and Ernest Francisco Fenollosa
In 1884, it was an American art historian, Ernest Fenollosa, who unwrapped the Kannon from the bundle of white cloth in which it had been kept as a hidden image for 200 years. He was hired by the Meiji government for research and reported the standard of Nara arts to be one of the highest in the world. Even now the statue has a perfect state of preservation and even retains some original gilding. It is open to the public only for a limited time in spring and autumn.
A picture of Kuse Kannon http://www.horyuji.or.jp/en/garan/yumedono/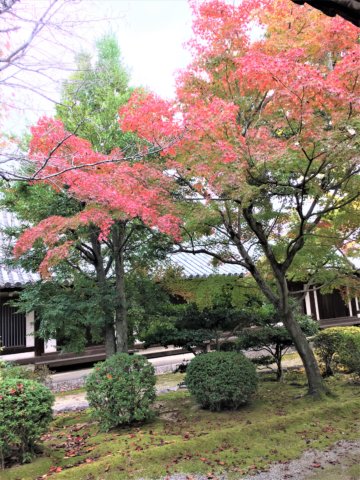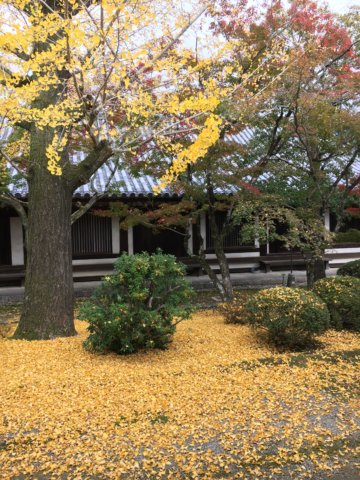 Autumn leaves
Chugu-ji Temple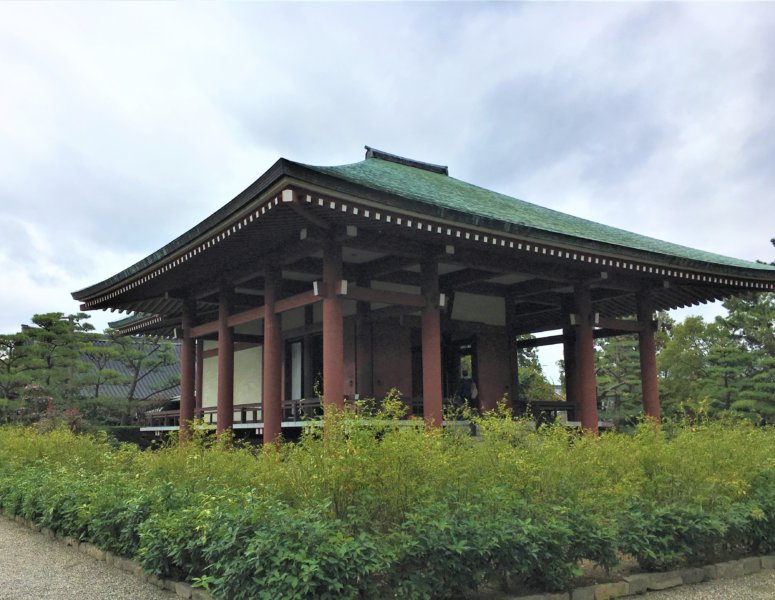 Chugu-ji Temple is located just behind Horyuji's Eastern Precinct and it is best approached through a gate in the northeast corner of the Eastern Precinct of Horyu-ji. Chugu-ji is a small temple but worth a visit for its elegant statue of a sitting Buddha, Hankashii Bosatsu, who crosses the right leg over the left and show a classic and gentle smile. Chugu-ji is established by the mother of Prince Shotoku and one of three major nunneries in Nara.  
A picture of Hankashii Bosatsu http://www.chuguji.jp/index.html
Informaton:
Horyuji Temple
Hours:  8:00 to 17:00 (until 16:30 from early November to late February)
Closed:  No closing days
Admission: Adult 1500 yen
Address : 1-1 Horyuji Sannai Ikaruga-cho, Ikoma-gun, Nara Japan
Chuguji Temple
Hours:   9:00 to 16:30 (until 16:00 from October to late March);
             admission ends 15 minutes before closing
Closed:  No closing days
Admission: Adult 600 yen  * Some discount if you go to Chugu-ji after Horyu-ji.
Address: 1-1-2, Horyuji Kita, Ikaruga-cho, Ikoma-gun, Nara Japan
Access to Horyu-ji Temple:

*It is recommended to go to Chugu-ji Temple after Horyu-ji Temple. *See the recommended route- Horyu-ji Area including Horin-ji and Hoki-ji Temples. 
By train From JR Nara Station, take the frequently departing Yamatoji Line to Horyuji Station (12 minutes, 220 yen). From there it is a 20-minute walk or a short bus ride on the No. 72 bus to the temple (190 yen one way, departures every 20 minutes). Get off at the Horyuji mon-mae bus stop.
By bus From JR or Kintetsu Nara Station, take No. 97 bus to Horyuji-mae. The one way ride takes about one hour and costs 770 yen. There is one bus per hour. A one day pass is available(Adult 500 yen) Information can be found here:  https://www.narakotsu.co.jp/language/en/pass.html
Last updated on Jan 9, 2020
text by: Yoko