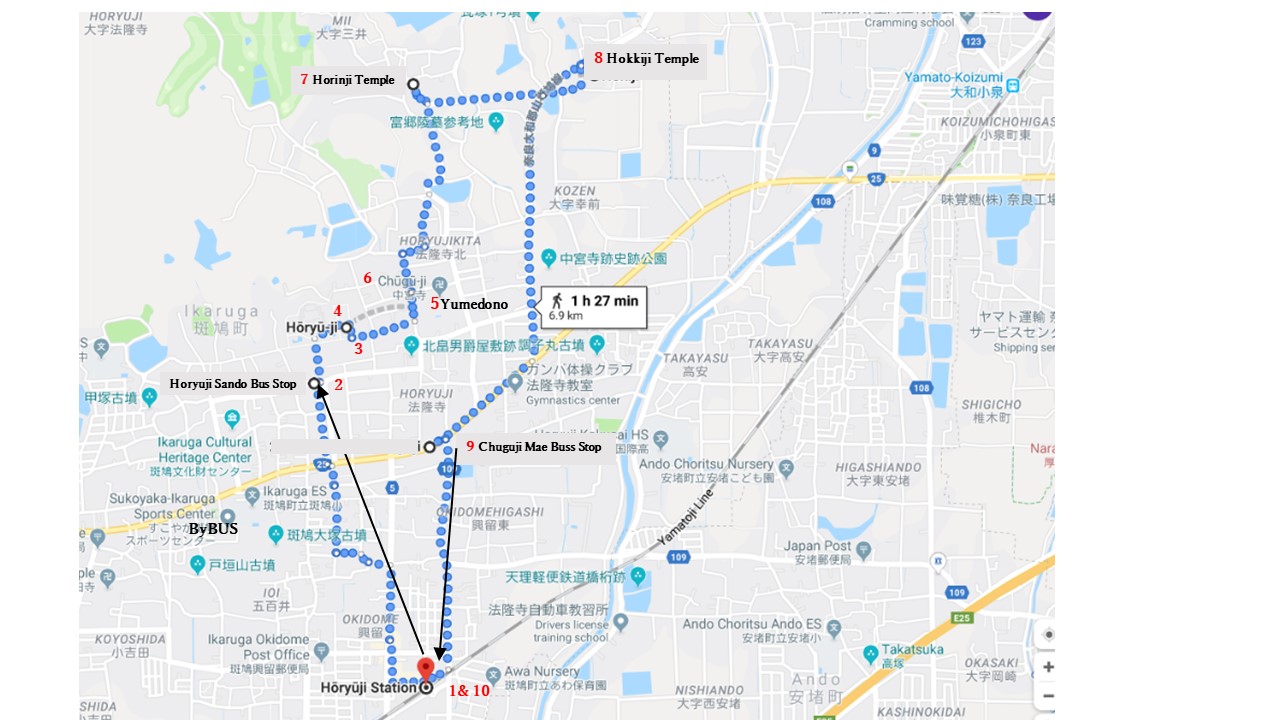 1. JR Horyu-ji Station   Take the No.72 for 5-min ride(every 20 min) or walk for 15 min
2. Horyuji Sando Bus Stop  Walk along the pine trees lined with shops and restaurants.
3. Horyu-ji Temple South Main Gate
4. Western Precinct(Central Gate, Main Hall, Five-Story Pagoda, Great Lecture Hall)
     Plan to stay in Horyu-ji Temple for 1 -1.5 hrs.
5. Eastern Precinct(Hall of a Vision)  Chugu-ji Temple is connected to the backyard.
    This is the best way to go to Chugu-ji Temple
6. Chugu-ji Temple  Plan to stay for 20 min. 
    Walk through the residential area and then the farming area to Horin-ji for about 15 min.
7. Horin-ji Temple   Stay about 10 min Walk through the farming area to Hokki-ji Temple.
8. Hokki-ji Temple   Stay about 15 min.  Walk through the farming area for 20 min.
9. Chugu-ji Mae Bus Stop  Take the No. 72 bus for 6-min ride (every 20 min until 16:58)
10. JR Horyuji Station 
JR Horyuji Station is on the JR Yamatoji Line that connects with Nara and Osaka.
last updated Jan 9, 2020 
text by: Yoko