Kofuku-ji Temple was built in 710 in the east end of Heijyo-kyo Capital area as a tutelary temple of the Fujiwara clan. The temple celebrated its 1,300-year anniversary in 2010. The five-story pagoda, 50 meters high, the second highest in Japan, over Sarusawa pond, is a landmark and a symbol of Nara.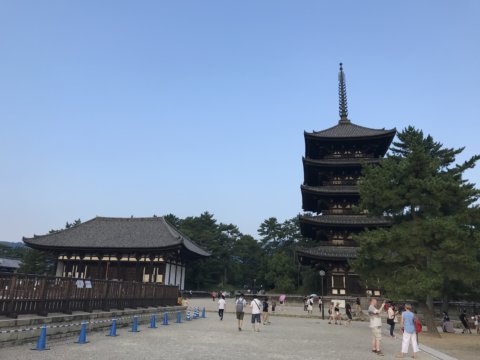 The temple at its height of political and even military power, had over 4,000 monks. But it suffered from many fires and existing buildings were all rebuilt 800-300 years ago. The last to be rebuilt was the Central Golden Hall, which was completed in 2018. Throughout the anti-Buddhist movement during Japan's hectic modernization period, Kofuku-ji Temple was forced to give up most of its land and now it looks like it is just a part of Nara Park with no boundary. However, this made Kofuku-ji Temple very familiar to the people in Nara. It is free to visit at any time, unless you want to go inside of halls. People passing by the East Golden Hall in early morning can hear monks reciting a sutra inside the hall.  
The temple is known for its fine collection of Buddha statues. The National Treasure Museum exhibits many outstanding Buddhist art from Kofuku-ji Temple. Among them is the three-faced, six-armed Ashura Statue, one of the most celebrated and charming Buddha statues in Japan, made 1,300 years ago. The Ashura Statue, who fights against evil normally has a scary face, but this Ashura has the serious look of a beautiful young man. It is said that the empress who built Kofuku-ji Temple together with her husband Emperor Shomu had lost her little boy and therefore many of the Buddha statues of Kofuku-ji Temple have images of a little boy which attract many people. 
It also should be noted that Kei School of Buddhist sculptors including the famous Unkei and Kaikei were based in Kofuku-ji Temple and left many of their masterpieces here. 
The HP of Kofuku-ji Temple shows the face of Ashura on the top. http://www.kohfukuji.com/  
The HP of Kofuku-ji Temple also has a list of all their statues(only in Japanese) and you can see each picture with a click. http://www.kohfukuji.com/property/pagod.html
The Central Golden Hall, reconstructed and reopened to the public in October 2018, about 300 years after it was lost in fire, is Kofuku-ji's Main Hall. It looks new, but it is intentionally colored less brightly than its original color. The zelkova tree from Cameroon was used for the over 10-meter pillars. 
The Southern and Northern Octagonal Halls are not usually open to the public, but store beautiful and highly valued statues. A Kannon hall besides the Southern Octagonal Hall is always crowded with many local worshipers.
Information:
Hours
9:00 to 17:00 (National Treasure Museum and Central & Eastern Golden Hall. Admission until 16:45)
The temple grounds are open 24 hours.
Closed
No closing days
Admission
Adult: 500 yen (Central Golden Hall) 700 yen (National Treasure Museum) 300 yen (Eastern Golden Hall) 900 yen (National Treasure Museum and Eastern Golden Hall. Sold until 16:00)
* You are always asked to check information on the official website before you visit. http://www.kohfukuji.com/english.html
Address  
48 Noboriojicho, Nara City, Nara, Japan
Access:
A walking route from JR Nara Station. Walk straight up Sanjyo Street until you see Sarusawa Pond.   
Kofuku-ji Temple is a five-minute walk from Kintetsu Nara Station, or a 20-minute walk from JR Nara Station.
Kofuku-ji can also be reached from JR Nara Station by loop bus or any of the buses bound for Kasuga Taisha.
Get off at Kencho-mae bus stop.
Last updated: Oct 03, 2019
text by: Yoko