Todai-ji Temple | Great South Gate (Nandai-mon) |
When you enter the precincts of Todai-ji Temple from the south, you will soon notice a huge gate in the middle of the approach to the Great Buddha Hall (Daibutsu-den). This is the Great South Gate (Nandai-mon), the main gate of the Temple and one of the landmarks of Nara.
The 25-meter-high structure is one of the largest temple gates in Japan. The original gate was built in 752 but destroyed in a typhoon in 962. The gate we see today was rebuilt and completed in 1203. The wooden gate is supported by 18 huge pillars, which are each 21 meters long. The characteristic of the architectural style is that it has many beams passing through the pillars and no ceiling panels are installed. So, if you look up, you can see the exposed structure of the building and also find some traces of red pigment on the surface.
Guardian Kings
The gate itself is a National Treasure but you will miss the other two if you just go through it. They are guardian kings standing in dark alcoves on both sides of the gate. As they are so huge, it is difficult to see them in their entirety if you stand too close. Move to the opposite side to enjoy the magnificence of the complete view!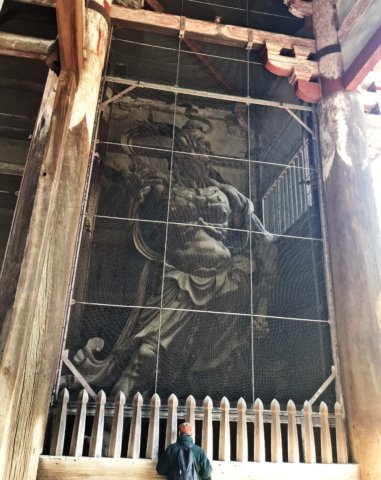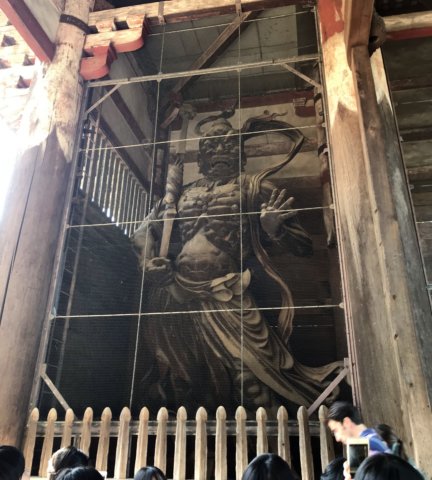 Guardian kings are deities who protect Buddhism and Buddhists. They often constitute a pair and stand on both sides of a temple gate. They have weapons in their hands to protect the temple from evil. The statue on the left opens his mouth, saying "Ah" and the one on the right has his mouth closed, saying "Um." The one saying "Ah" often looks more furious than the other.
The two guardian kings at the Great South Gate are masterpieces created by a team headed by two genius sculptors; Unkei and Kaikei. The two sculptures are characterized by the masculinity and power they express. The muscles are exaggerated and the drape and curves of their robes add movement and strength to them.
Surprisingly, each of them consists of about 3,000 parts! But perhaps you cannot identify where they are jointed together even if you look as hard as you can. It is said that the sculpting work started in 1203 and it took only 69 days to complete them.
Information:
Hours:
Accessible 24 hours a day
Admission:
Free
Address:
406-1, Zoushi-cho, Nara City 630-8211 Japan
* You are always asked to check information on the official website before you visit.
http://www.todaiji.or.jp/contents/guidance/guidance1.html
Access:
Last updated: October 28, 2019
Text by: Yumi