Todai-ji Temple | Nigatsu-do Hall |  Eye-catching photo by giuliettar2
Nigatsu-do Hall, the literal translation of which is the Hall of February, is located in the east hillside area on the premises of Todai-ji Temple. Its huge roof and characteristic balcony that jut out over the hillside are very noticeable.
From the balcony, you can enjoy a panoramic view of Nara: the roof of the Great Buddha Hall (Daibutsu-den), the city area and mountains bordering Osaka, from near to far. As the balcony faces west, you may have the fortune to enjoy a dazzling sunset.
The Hall is also famous for its ceremony called Shuni-e or Omizutori, which is held from March 1 until the daytime of March 15. It has a long history of more than 1,200 years and has been held literally every year without a single break, to our surprise. The ceremony consists of a series of rites. Among them, the fire ceremony, conducted every night during this period, is particularly spectacular and attracts many sightseers.
In the dead of night on March 12 (very early morning of March 13), another special ceremony, the water ceremony, is held and attended by many believers and visitors. This solemn ceremony is the highlight of the series of services and the fire ceremony is also special on this day. Extraordinary numbers of people visit the Hall on the evening of March 12.
It is said that the end of the ceremony tells of the arrival of spring to this region.
Information:
Hours:
Accessible 24 hours a day
Admission:
Free
Address:
406-1, Zoushi-cho, Nara City 630-8211 Japan
* You are always asked to check information on the official website before you visit.
http://www.todaiji.or.jp/contents/guidance/guidance1.html
Access:
Last updated: October 28, 2019
Text by: Yumi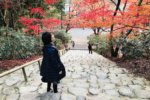 Eye-catching photo by giuliettar2