Todai-ji Temple | Todai-ji Museum |
Two huge hands welcome you in front of the museum building. These are full-size replicas of the hands of the famous Great Buddha statue in Todai-ji Temple.
In the building, there is a space before the first exhibition room, where an introductory video program is shown on a large screen. Narration is provided in Japanese only but it has English subtitles. It is a good opportunity to grasp the history and whole picture of the Temple.
Todai-ji in its earliest days is the theme of the first exhibition room, where you will see swords and Gigaku masks. Gigaku is a performing art where performers with masks dance to express a story. It is said that this style of dance drama was disseminated from China to Japan through the Korean Peninsula in the 7th century.
https://nara.jr-central.co.jp/campaign/heijyokyo/special/gigaku.html
(Official JR Central website, showing Giraku photos and explanations in Japanese)
The second room has a high ceiling and a huge glass showcase that replicates the architectural style of a temple hall. This is the main room of the Museum. You will see five beautiful Buddha statues behind the glass.
In the center is the Thousand-armed Kannon statue. Actually, it has 42 arms instead of a thousand. This is a simplified style, which is observed very often, and 40 hands other than the two before the chest are used to rescue 25 worlds respectively, therefore saving 1000 worlds in total. (There are only three Kannon statues in Japan that have (had) a thousand arms.) This wooden statue is said to have been built in the ninth century.
It has a plump body and a calm expression. The arms are realistic, compared with those of other Thousand-armed Kannon statues, which are often thinner and more simplified. Tools, treasures and weapons are in their hands. Some soft colors remain unfaded.
Beside the Kannon are Nikko Bosatsu and Gakko Bosatsu. These elegant white statues were built in the eighth century. Nikko means sunlight and Gakko moonlight. Nikko is said to emit strong light to eliminate painful darkness in the world, while Gakko calms down worldly desires with the coolness of the moon.
In a glass case in front of the Thousand-armed Kannon, a small statue of the Buddha at Birth with Ablution Basin is displayed. According to legend, he took seven steps forward and pointed to the sky, or the heaven, with his right hand and to the ground with his left hand immediately after he was born.
An English explanation is provided on the museum labels. An Audio Guide in English is also available (500 yen).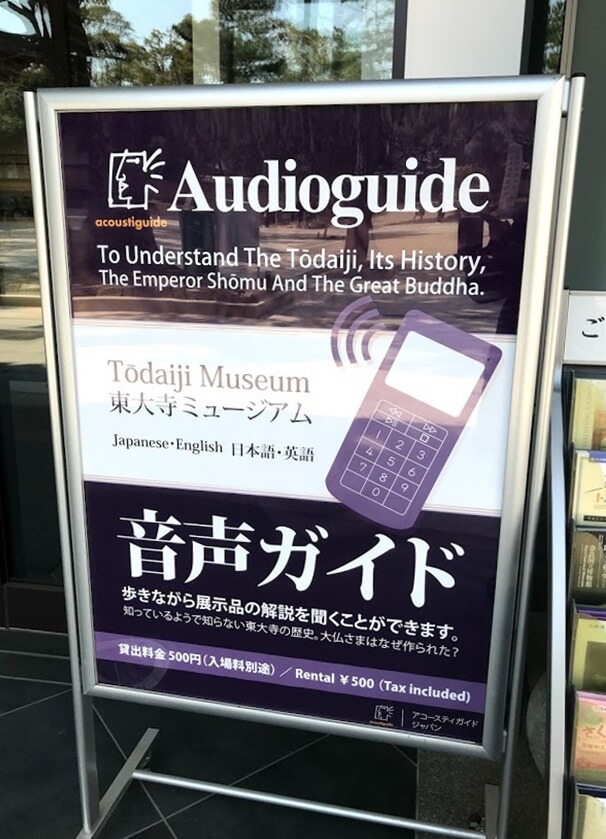 This museum is comparatively small. If you are going to visit more than one museum in the Nara Park area, this would be one of the options.
There is a pleasant coffee shop in the same building. You may stop by without paying admission to the museum. It's a good idea to have a rest there after strolling around Nara Park.
Information:
Hours:
Apr.-Oct.: 9:30 to 17:30
Nov.-Mar.: 9:30 to 17:00
* Enter 30 minutes before closing.
Admission:
1) Museum only:
Adult: 600 yen
2) Great Buddha Hall and Museum:
Adult: 1,000 yen
Address:
406-1, Zoushi-cho, Nara City 630-8211 Japan
* You are always asked to check information on the official website before you visit.
https://www.todaiji.or.jp/en/information/museum/ (Official site)
Access:
Last updated: October 13, 2023
Text by: Yumi