Joruri-ji Temple is just about a 20-minute bus ride from Kintetsu Nara Station. It is the most popular temple in the Minami Yamashiro area, where mountainous surroundings on the boundary between Kyoto and Nara have preserved some charming old temples in tranquility. Yet, it is still not very well-known by overseas visitors.
This temple is the most crowded in autumn, when the precinct is covered with colored autumn leaves, but if you avoid the weekends, even in autumn, you have a chance of meeting nine sitting Buddhist statues lined up in the Main Hall just for you.
Its buildings and statues are mostly over 900 years old. The garden is all natural, untouched and always with some seasonal flowers.  You will only hear the birds and water flow from the mountain as you are in the Pure Land. 
The layout of the temple grounds is in the style of a Jodo Garden or Pure Land Garden, which was popular in the Heian Period (794-1185). The Three-Story Pagoda stands in the east, where the sun rises (symbolizing birth), and the Main Hall is in the west, where the sun sets (symbolizing death), facing each other over a central pond that represents the ocean between this life and the world beyond.
On spring and autumn equinox days, you can see the sun rising on top of the Three-Story Pagoda and setting in the back of the Main Hall. 
The Main Hall and Nine Sitting Statues of Amida Nyorai
Please see the pictures at the Kyoto Yamashiro AREA's promotion company website:
http://ochanokyoto.jp.e.aav.hp.transer.com/spot/detail.php?sid=243
The Main Hall houses Nine Sitting Statues of Amida. It is said that about 30 locations were built to enshrine a similar nine-statue formation in the Heian Period, but Joruri-ji is the only one left now.
Until about 2023, one or two out of the nine Amida Statues will be sent for renovation. While the center statue is absent, the Dainichi Nyorai Statue normally enshrined in another hall of the temple, not open to the public, will be sitting in the middle of the Main Hall (between July 15, 2020 and June 20, 2021).  
The Main Hall, the Nine Sitting Statues of Amida and the Four Heavenly Kings (two of them are displayed in Nara National Museum) are all designated as Japan's National Treasures.
Three-Story Pagoda and Yakushi Nyorai Statue
Yakushi Nyorai, enshrined in the Three-Story Pagoda, is only open to the public for a limited number of days a year.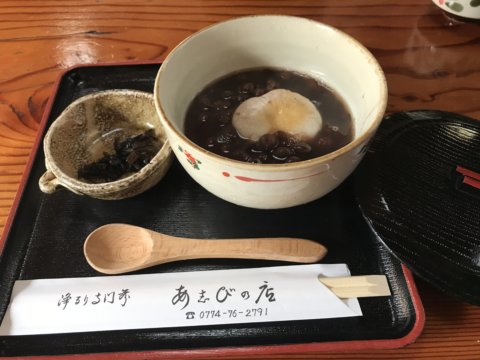 Ashibino is a teahouse with an old wooden gate on the approach to Joruri-ji Temple. They serve noodles with local vegetables, tea with many kinds of Japanese sweets, and the best recommended is sweet red bean soup (hot or cold). Not only the taste of their home-made food, but also their old wooden house will make you feel at home.
Information:
Hours:
9:00 to 17:00 (Dec-Feb 10:00-16:00)  No closing day
Admission:
adult : 400 yen
Address:
40 Fudaba, Nishio, Kamo cho, Kizugawa city, Kyoto, 619-1135 Japan
* You are always asked to check information on the official website before you visit.
Official site of Kizugawa City(only in Japanese)  http://0774.or.jp/temple/jyoruriji.html
Access: 

The temple is located on the border of Kyoto Prefecture.
–   Take The Kizugawa City Community Bus at JR Kamo Station to Gansen-ji for about 20 minutes. They have 8 round trip services a day. Timetable(only in Japanese) 20191226-114443.pdf (kizugawa.lg.jp)
One way ticket from JR Kamo Station, 300 yen to Gansen-ji and 400 yen to Joruri-ji. 200 yen between Gansen-ji and Joruri-ji.   * as of May 2021      JR Kamo Station is about 70 minutes from JR Osaka station on the Yamatoji Line by a direct rapid train via JR Nara Station.  From JR Nara Station it is about 14 minutes.
–   There is another way from Nara.  The Nara Kotsu Bus has seasonal bus services between JR Nara Station and Gansen-ji/Joruri-ji Temples via Kintetsu Nara Station.To Joruri-ji, It takes 30 minutes from JR Nara Station and 23 minutes from Kintetsu Nara Station. The Nara Kotsu Bus seasonal service to Joruri-ji is available on Sat, Sun and National Holidays in April, May and Nov, and Oct 31  * as of May 2021   Please make sure to check the Nara Kotsu bus timetable when you plan to go. https://www.narakotsu.co.jp/news/news_1148.html (Japanese only)
You can also enjoy 40-to-50-mins "Stone Buddha Walk" between Gansen-ji and Joruri-ji Temples. For detailed access information to both temples and "Stone Buddha Walk" route map, see the Recommended Route page (to be uploaded later).here.
photos taken on Nov 18, 2019
Last updated on May 13, 2021
Text by: Yoko