Abe Monjyuin Temple, founded in 645, is one of the oldest Buddhist temples in Japan. For more than 1300 years the temple has been popular with ordinary people who come to pray and seek protection from bad luck and evil spirits. As Monjyu is a deity of wisdom, many students visit the temple before entrance exams for a good result, offering wooden tablets with their wishes written on them and obtaining good luck charms.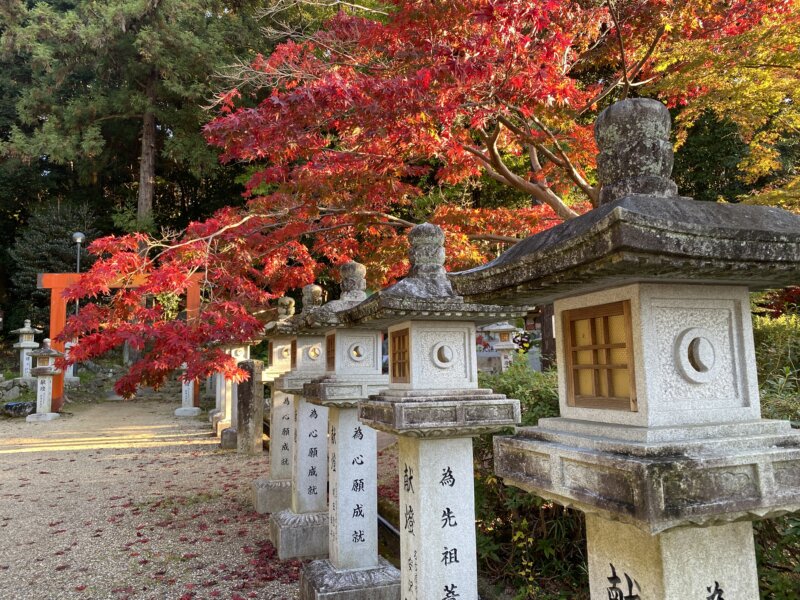 The Monjyu Bosatsu(National Treasure)
It is known as one of the three great temples of Monju in Japan. The Monjyu Bosatsu or the Buddha of Wisdom enshrined in the main hall is up to seven meters high. You are overwhelmed by the sight of the well-proportioned, noble face of a young man looking down on you. It was created in the 13th century by Kaikei who was one of Japan's most renowned Buddhist sculptors. The Handsome Monjyu Bosatsu sits high on a fun-faced lion and is accompanied by four images of distinctive characters. All of them are designated as National Treasures. A team of five travels through the sky and across the ocean to banish evil and bring wisdom to everyone in the world. Please have a look at their brave characters. 寺宝と文化財 | 安倍文殊院 (abemonjuin.or.jp)
The temple was originally built for The Abe clan and Abe no Seimei, a famous fortune teller of 1000 years ago who was said to have psychic powers, is enshrined in one of its halls. There is also a burial mound dating from the 7th century AD.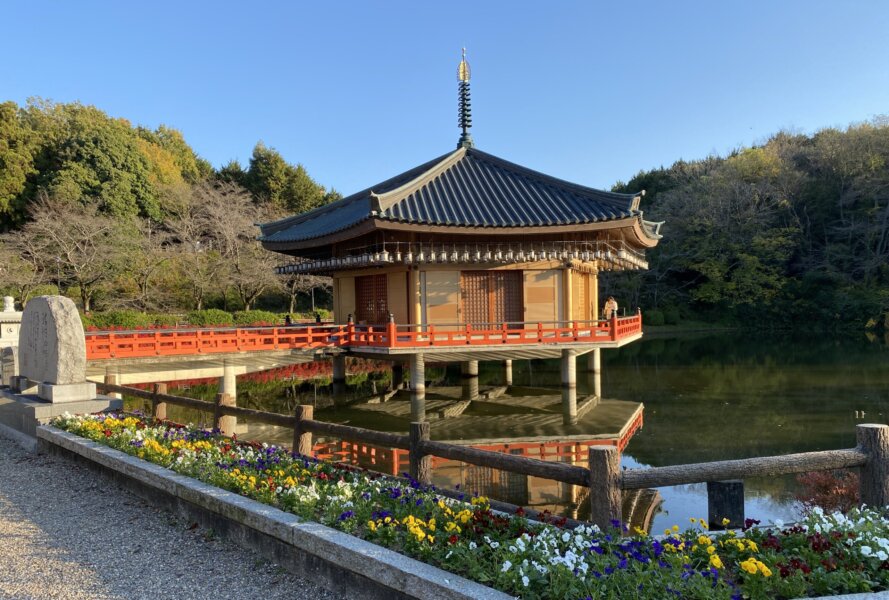 A small pond with a pavilion is dedicated to Benzaiten, the deity of happiness and music.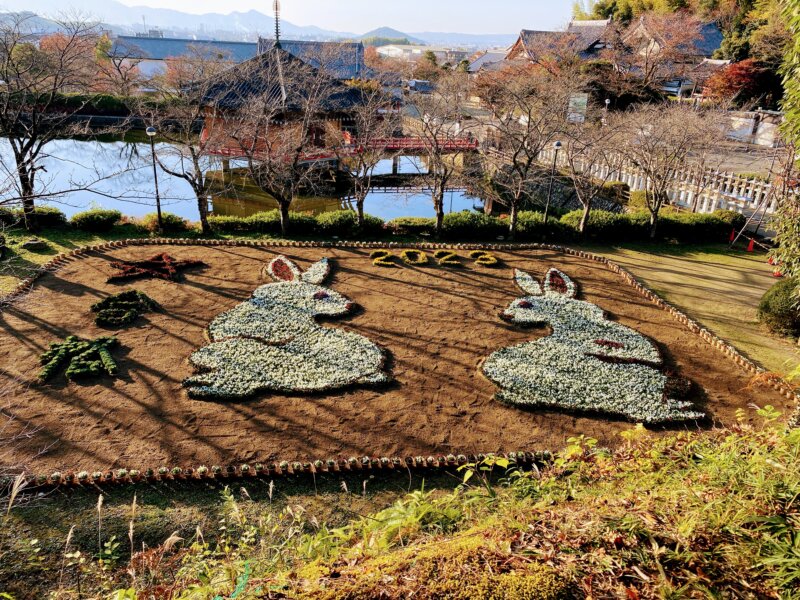 2023 is a year of a rabbit.
The temple is also famous for its flowers. In autumn, its monks and staff create a large maze of cosmos in a large open space. In November, they make an image of next year's animal according to the Japanese zodiac, with more than 8,000 pansy flowers, which can best be seen from the observatory. It is one example of their efforts to remain as a temple for the ordinary people.
Information:
Hours:
9:00 to 17:00
Admission:
Adult: 700 yen or 1,200 yen including Kinkaku Ukimido Hall(a pavilion on the pond)
Address:
645 Abe, Sakurai City, Nara Prefecture, Japan
* You are always asked to check information on the official website before you visit.
Abe Monjuin Temple | 奈良大和 四寺巡礼 | NARA-YAMATO Four Temple Pilgrimage , Hase-Muro-Oka-Abe
安倍文殊院 (abemonjuin.or.jp)(Official Abe Monjyuin Temple website. Japanese only.)
Access:
From Kintetsu/JR Sakurai Station, walk about 20 minutes, or at the station's South Exit take the SB (Blue) bus line of Sakurai City Community Bus Service for 7 minutes. Get off at Abe Monjyuin. The gate of the temple is just across the road. Taxies are also available at the South Exit of Sakurai Station.
Travel Tips:
Tanzan-jinjya Shrine and Shorin-ji Temple are on the same SA (Green) bus line, and Abe Monjyuin Temple is on the SB (Blue). If you carefully plan, you can visit all these three spots by bus in a day.
Photos are taken in November 2022
Last updated: September 8, 2023
Text by: Yoko