Yamanobe-no-michi is one of Japanese oldest roads and runs along the foot of the mountains in the east of Nara Basin. Today it is a pleasant hiking trail through rural landscape, dotted with many significant shrines and ancient burial mounds. The most popular is the trail approximately 16 km from Isonokami Jingu Shrine in Tenri City to Omiwa Shrine in Sakurai City. Our Yamanobe-no-michi walk this time covers the more popular south half of the trail with a good view of Mount Miwa, long worshipped as a sacred mountain. It is about 7 Km, starting at Chogaku-ji Temple.
Chogaku-ji Temple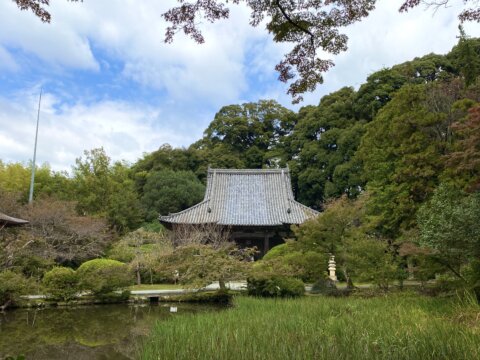 Chogaku-ji Temple is known for its seasonal flowers. Azalea and iris in spring are most popular. There are beautiful Buddhist statues and a charming small Japanese garden. 
The grave designated as the 10th Emperor Sujin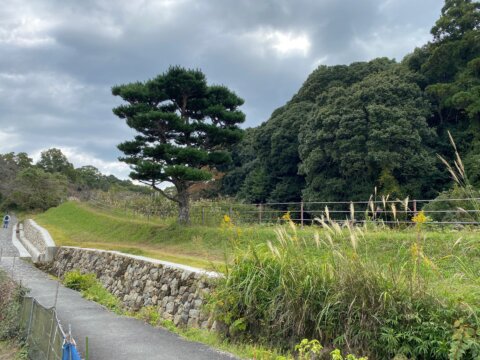 The grave designated as the 10th Emperor Sujin is one of the earliest large keyhole-shaped mounds of 240m in length constructed in the 4th century. Soon after this grave you find a larger grave, 300m in length, designated as the 12th Emperor Keiko, one of the largest keyhole-shaped mounds in Japan. Unfortunately, they just look like forested mounds in the pond, and the unique keyhole shape is only identified when you see them from above or on the map.    
Those megalithic tombs are called Kofun. They were mainly constructed in Japan in the 3rd century to the early 7th century. Many of them have distinctive keyhole-shaped mounds when viewed from above and are surrounded by a moat. The construction of early gigantic kofun were concentrated in the Nara Basin, and for this reason this area is considered the birthplace of Japan's first centralized government. Some of Kofun believed to be tombs of Emperors and their families are managed by the Imperial Household Agency and are closed to the public.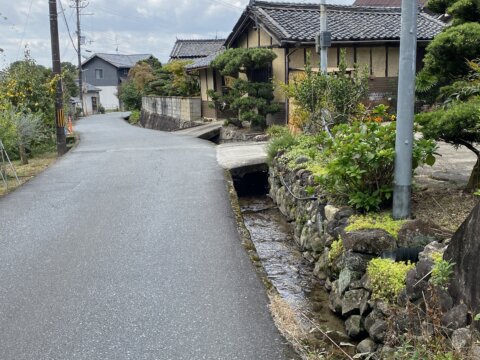 The trail goes through some local villages, rice fields, tangerine fields, and approaches to Mount Miwa.
Hibara Shrine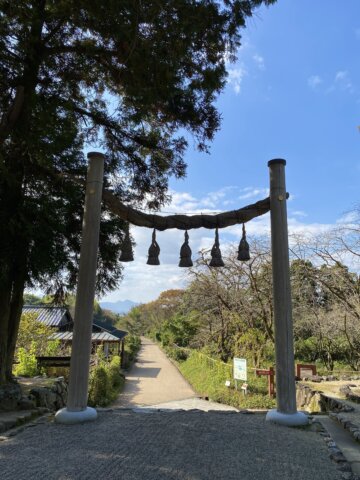 Hibara Shrine is one of many auxiliary shrines of Omiwa Shrine. People give prayers to Mount Miwa, a sacred mountain, through a unique three-in-one torii gate.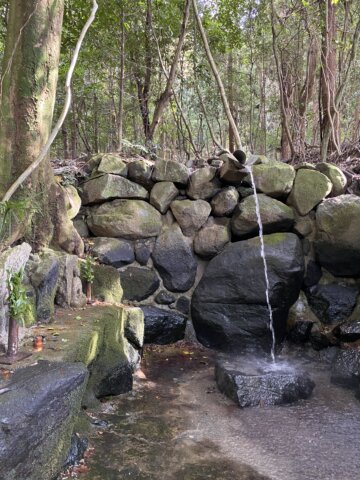 A little waterfall for Shinto mental training
Sai Shrine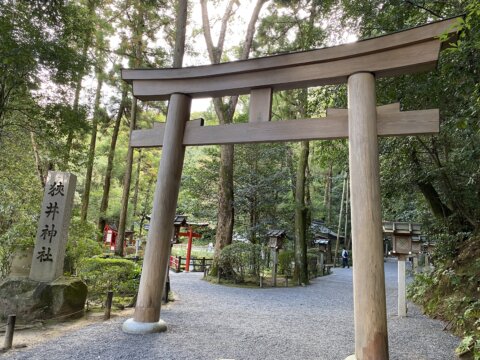 Another auxiliary shrine of Omiwa Shrine. They have a well of sacred water that is believed to heal all kinds of illness. 
Ohmiwa Shrine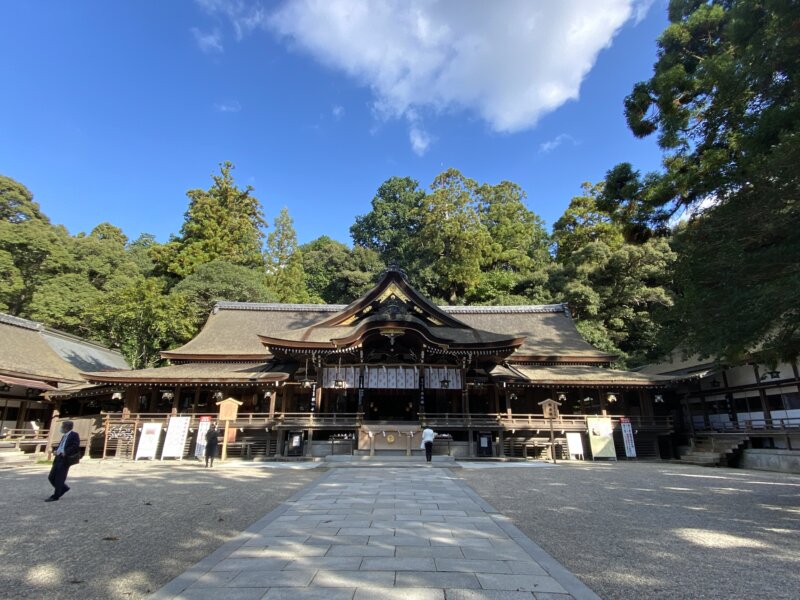 Ohmiwa or Miwa Shrine has been sacred ground for some of the earliest Shinto practices in Japan. It is considered Japan's oldest shrine as mentioned in Japan's oldest history books. It is unique to this shrine that the object of worship is the entire Mount Miwa, where the shrine stands. Even now, for many locals in Nara, visiting Ohmiwa Shrine on the first day of the year is their common practice. Also, it is dedicated to sake; and sake makers come from all over Japan to pray for good sake vintages.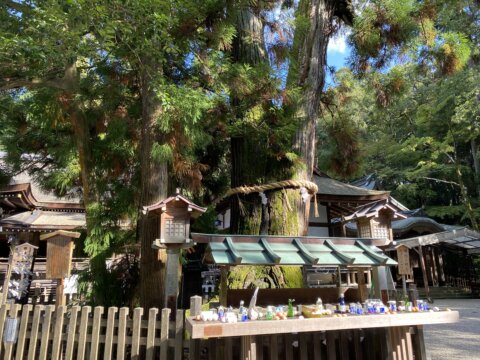 People donate eggs and sake, favorites of a legendary white snake, an incarnation of a deity of Mount Miwa living in the cedar tree.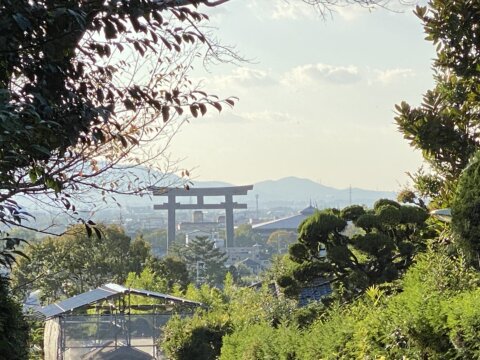 Overlooking the huge Great Torii gate of Ohmiwa Shrine
Byodo-ji Temple



Nearby Ohmiwa Shrine is Byodo-ji Temple, once a large temple attached to Ohmiwa Shrine.
Information:
Hours & Admission
・ Chogaku-ji Temple: open 9:00-17:00, no closing day, adult 400 yen
・ Omiwa Shrine: open all day, no closing day, free admission
Address
・Chogaku-ji Temple: 508 Yanagimoto-Cho, Tenri-City, Nara, Japan
・Ohmiwa Shrine: Miwa, Sakurai-City, Nara, Japan
* You are always asked to check information on the official website before you visit.
Official website (English)
Chogakuji Temple – Official Nara Travel Guide (visitnara.jp)
English | Ohmiwa Jinja Shrine | 大神神社(おおみわじんじゃ) (oomiwa.or.jp)
Access:
Click here for an English map of Yamanobe-no-michi trail prepared by Sakurai City (PDF).
・There are English signs on the route for Yamanobe-no-michi trail walkers, but the trail includes some very small unpaved roads, and a map is a must. 
 ・Our first visit, Chogaku-ji Temple, is about a 20 min. walk from JR Yanagimoto Station and JR Miwa Station is about a 7 min. walk from our last visit, Byodo-ji Temple.
・Starting at JR Yanagimoto Station at 10AM, including a picnic around Emperor Sujin's grave and a late lunch at a Somen noodle restaurant just outside of Ohmiwa Shrine, we arrived at JR Miwa Station at 4PM.
・We walked a total of 9 km. The roads are mostly unpaved and small, but mostly flat and safe to walk.
・JR Yamagimoto and JR Miwa Stations are on The JR Manyo Mahoroba Line (JR Nara – JR Sakurai Stations). 
JR Yanagimoto Station is about 20 minutes ride from JR Nara Station. Note: Many of the stations of this line are unmanned, and trains are one-man, two-car trains.  The doors of the 2nd car do NOT open. You must get in and out only from the 1st car.
All photos taken in October 2021
Last updated: October 20, 2022

Text by: Yoko