Yamanobe-no-michi is one of Japanese oldest roads and runs along the foot of the mountains in the east of the Nara Basin. Today it is a pleasant hiking trail through rural landscape, dotted with many significant shrines and ancient burial mounds. The most popular is the trail approximately 16 km from Isonokami Jingu Shrine in Tenri City to Omiwa Shrine in Sakurai City.
Our Yamanobe-no-michi walk this time covers the north half of the most popular part of the trail with a good view of the Nara Basin on the left. We started at Chogaku-ji Temple and headed north to Isonokami Jingu Shrine.
Chogaku-ji Temple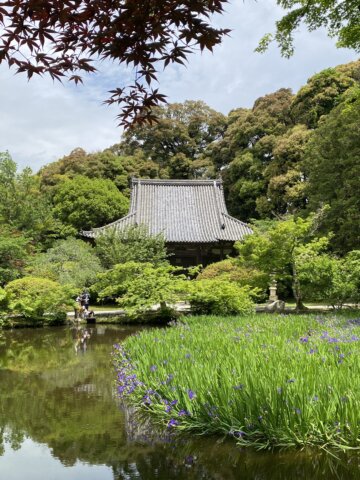 Chogaku-ji Temple was formerly a powerful temple covering a large area and housing more than 300 monks. Today it attracts visitors with seasonal flowers, especially azaleas and irises in Spring. We missed azaleas but saw some of the late irises on the pond.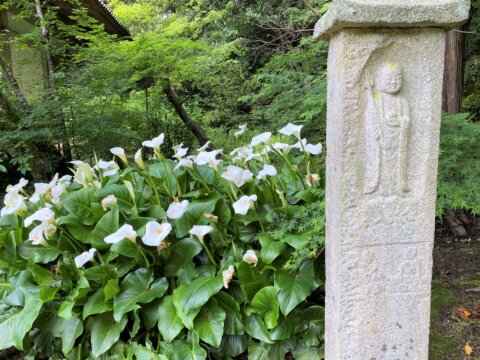 Calla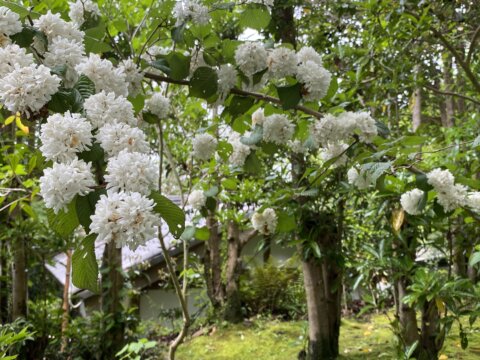 White flowers look beautiful among trees.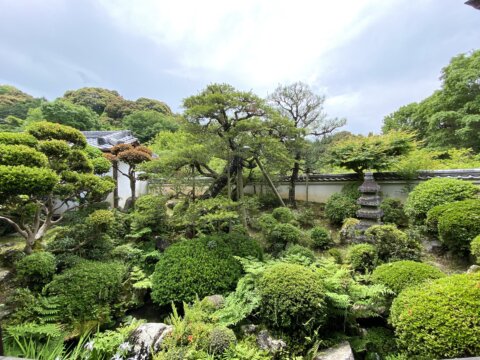 The picturesque small Japanese garden has a 400-year-old pine tree.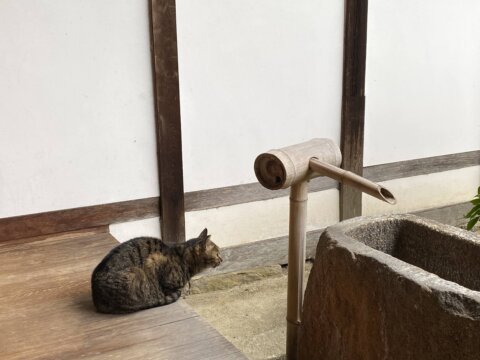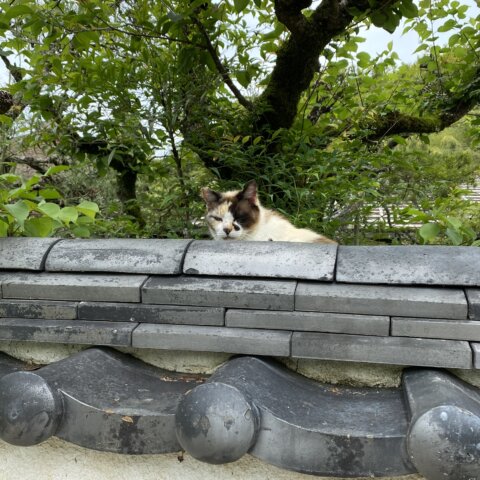 There are always cats in old temples.
Walking north on the trail, along the foot of mountains, you see mandarin groves on the right and a view of remote mountains over the Nara Basin on the left.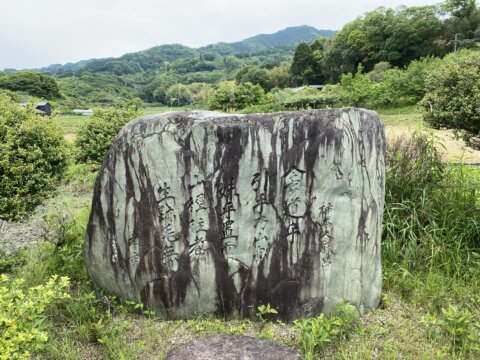 In Manyoshu, the oldest Japanese anthology of poems, many sites in Yamanobe-no-michi are written. There are many stone or wooden monuments with those poems engraved on the trail.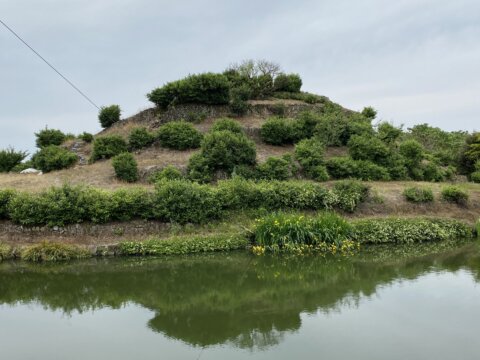 Nishiyamaduka-Kofun is believed to be a grave of an ancient empress.
Kofun, ancient burial mounds, were mainly constructed in Japan in the 3rd to the early 7th century. This Kofun is small, but in Sakurai and Tenri Cities alone, where the most popular part of Yamanobe-no-michi runs, there are 6 large ones over 200m long and many of them are said to be related to ancient emperors and their families.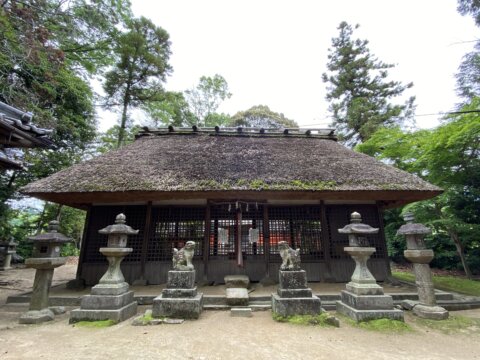 Yotogi Shrine is a small, quiet shrine notable for its thatched roof.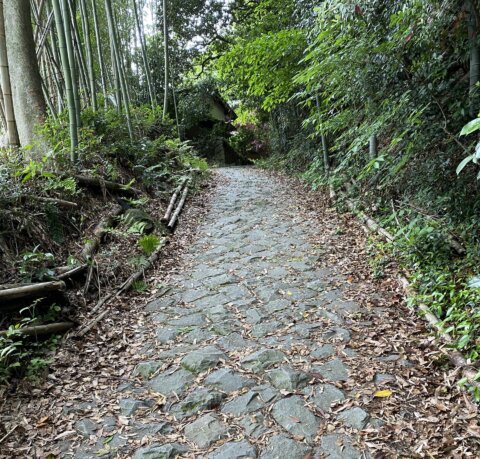 Yamanobe-no-michi trail is mostly flat and gentle, and sometimes paved, but there are a couple of short, steep hills.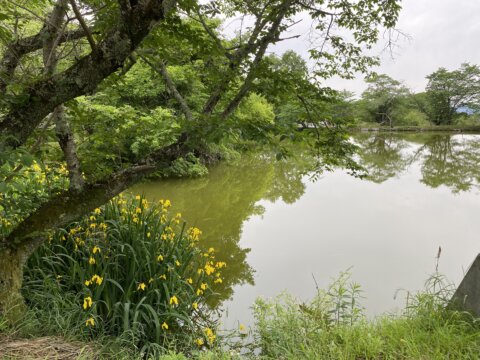 This pond is the only remains of a once very prosperous large temple.
Isonokami Jingu Shrine


At the northern end of the trail's most popular section is one of the oldest shrines of Japan, Isonokami Jingu Shrine. Enshrined in the shrine is the deification of the sword said to be owned by the ancient emperor who contributed to the subjugation of the country. Since then, emperors worshipped this shrine and donated many weapons including some highly artistic works.
Unique to the Shrine are their divine messengers: chickens. There are many kinds of chickens, totaling about 30, living in the shrine. Some are rare and protected species in Japan. Despite their noble role in the old and solemn shrine with a distinguished history, they seem just too busy and noisy.
Information:
Hours & Admission:
. Chogaku-ji Temple 9:00-17:00 No closing day, Adult 400 yen
. Isonokami Jingu Shrine Open all day, no closing day, free admission
Address:
・Chogaku-ji Temple 508 Yanagimoto-Cho, Tenri-City, Nara Prefecture
・Isonokami Jingu Shrine 384 Furu-cho, Tenri-City, Nara Prefecture
* You are always asked to check information on the official website before you visit.
Official website (English)
Chogakuji Temple – Official Nara Travel Guide (visitnara.jp)
Isonokami Jingu Official Website
Map (English)
Click here for an English map of Yamanobe-no-michi trail prepared by Sakurai City (PDF).
There are English signs on the route for Yamanobe-no-michi trail walkers, but the trail includes some very small unpaved roads, and a map is a must. 
Access:
 ・Our first visit, Chogaku-ji Temple, is about a 20-minute walk from JR Yanagimoto Station.
 ・Our last visit, Isonokami Jingu Shrine is a 30-40 minute walk from Tenri Station. JR and Kintetsu Railway are located in the same building. On the way to Tenri Station, there are large headquarter buildings of a Shinto-related Japanese religious group Tenri Kyo and a long shopping arcade.
・JR Yamagimoto and JR Tenri Stations are on the JR Manyo Mahoroba Line (JR Nara – JR Sakurai Stations). JR Yanagimoto Station is about a 20-minute ride from JR Nara Station.
note: Many of the stations of this line are unmanned, and trains are one-man, two-car trains. The doors of the 2nd car do NOT open. You must get in and out only from the 1st car.
All photos taken in May 2022 
Last updated: September 2, 2023
Text by: Yoko